Barefoot Jet Ski Dolphin Tour Company
Barefoot jet ski Dolphin Tour Company - Policies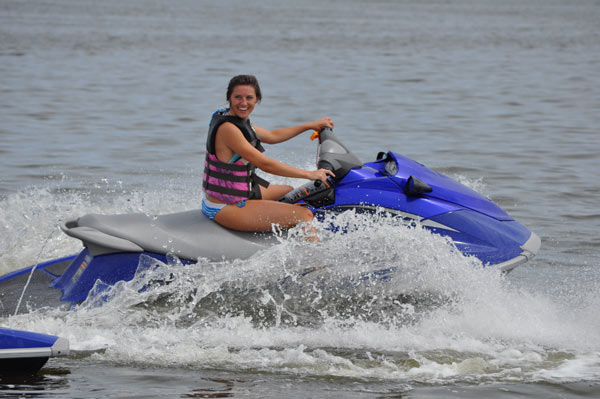 Dolphin Package A-G reservations requests and information, ONLY provided by Phone!
ONLY Deposits of 50 % are Accepted via CC Balances are due at the END of your Charter. 
Jet Ski Services are Discounted when you book online!
ONLY Deposits of 50% are Accepted Via CC Balances are due at the END of you guided tour.
No quotes are offered via email due to limited equipment and availability.
Dolphin Sightings and Interactions
PLEASE READ ENTIRE POLICY PAGE
Reservations taken 7 days a week 9 am to 5 pm
Gratuity Policies, Deposit Refunds and Cancellation info are detailed below.
Reservations are Required and can only be made by Phone. 
When you are prepared to book, Pkg Type, Group Size, Date and Deposits are required.
Receiving a quote for Providing us with an Approximate group size for different packages, or options for multiple availabilities IS Not A Reservation! 
Deposit Amounts are Calculated On Pkg. and Exact Group Size. 
UNREAD information COULD PREVENT and cancel your trip with us without the possibility of a refund! 
Any Pkg. with Free Wave Runners Offered Require Refuel Charges in exchange for Free Rental time. (see details and costs below under Wave Runner Refuel)
On the day of your trip DO NOT ARRIVE WITH ANY ADDITIONAL GUESTS REGARDLESS OF AGE , not arranged for at original request to BOOK!
48 Hours Notice is required by Barefoot Family Dolphin Safaris to COMPLY will all United States Coast Guard's FEDERAL Safety Requirements as well as recalculate any additional costs. There are NO REFUNDS if you choose to forfeit the trip because your last minute guest can't be accommodated for OR if you IGNORE WEIGHT RESTRICTIONS AND OVERLOAD A JET SKI OR after we agreed to the original reservation arrangement size of your group and the amount of equipment needed and priced for your original group count. Your are still responsible for the Entire Charter amount payable in full if you forfeit your time with us. Equipment has been readied and fueled for you personally. Captains and Crew assigned, and we cannot resell your package in such short notice. So please let us know 48 hours prior to change the group size. Please arrive 45 minutes early, lost time can not be made up.
Remember these are wild dolphins. Dolphins can be seen 90 % of the time when calm winds prevail and Days of FRESH Rain water HAS Not Flooded the Estuary. We can only Observe and Respond. These dolphin are not in Sea World and not trained to entertain us. We do not Guarantee sightings, feedings, or certain behavior of any wild animal and caution others to use common sense before booking with anyone that makes those types of promises. NO REFUNDS! It is a Federal offense to to feed, swim, or harass dolphin in the Coastal and Inland waters of the United States. Swimming and feeding activities are ONLY permitted in Zoo environments like "Sea World".
(Some Search Engines have miscategorized Barefoot and have we been actively asking for corrections to be made) Foreign countries do not have the same protection laws. Weather and social conditions in a dolphin colony Are Not in The Captains Control and WILL Affect any Captain's chance to find dolphins. 
Please DO NOT write about a negative experience related to a weather event, cloudy skies, or drizzle for ANY dolphin tour company you choose to use in our area. All tour entities in our area do their best to encounter dolphin. Please be fair when sharing. We are in a Sub Tropical Environment Captains cannot predict the weather or wild dolphin behavior or How Many Dolphin Are Going To Be Seen the day of your trip. We can only inform you based on past individual personal encounters and some known or published material information.
Notify us of any health concerns when booking as pertaining to Physical Restrictions, Allergies, Medicines carried aboard. AGE AND WEIGHT RESTRICTIONS APPLY.

Before You Arrive: Apply sunscreens as sprays are not permitted on board. Go to the restroom. Wear Bathing Suits if you are intending to get wet. Bring Towels. Bring Snacks but NO BANANAS (will explain later:) Camera Optional.
Wave Runner Requirements and Refuel cost for Free W/R pkgs. If Applicable. Must Have valid US State Issued Dr. Lic or Learners Permits. Must be 18 to operate a wave runner solo. Damage deposit required w/ Valid CC from Charterer.
Must be 19 with Valid CC to be "The Charterer" and Sign for any and All Total damages or Total losses to EWA LLC or any Property Owner that incurs damages from anyone on your charter with us. Must have a parent or any 21 yr old accompany any one under 18 wanting to operate a wave runner (ie 15 16 or 17 yr olds w/ Valid Permit or Drivers Lic.)
All citations and damages are the responsibility of the Charter. These are NOT Rentals They are part of your charter and are Deluxe Models.
**FREE W/R Pkgs provide 2 Runners** Extra runners additional cost per pkg. Refuel chg apply to all Free W/R Pkgs Not the boat in your pkg. Approx Refuel cost per Runner 2Hr $18 to $22 3Hr $26 to $30 All day $54 to $69 The W/Rs can be used together at once by the entire group OR have split use for family tubing. IT IS YOUR Choice to use the equipment provided any way you choose. IF your group is undecided and half wishes to tube we will then use one of the 2 runners provided for us to tube that part of the group and the rest and go on a run and return to take turns.
All groups are free to switch activities for everyone to participate. Exclusive W/R use can be chartered separately for additional equipment cost.

No weapons or any illegal substances of any kind allowed signed releases are required. Charterers are completely responsible for all personal behavior and behavior of others while on board our vessels. No Alcohol or under the influence of drugs or alcohol
All trips are private for you and your guests All pkgs are limited to 6 passengers, some 8 passengers.
You Can charter and pay for additional equipment for a lager group (Max 10). Please arrive 45 min before boarding time and call for someone to come meet you in the parking lot. All of these details are provided in your confirmation text only sent to you once we have received your deposit to book your date.
YOU CAN ONLY RESERVE BY PHONE
You are going to visit a sub tropical environment light drizzle, clouds overall cloudiness is typical along with pop up showers and possible full sun on any given trip during the year. NONE of these events constitutes a refund of any kind. IT IS THE NATURE OF BEING ON A CHARTER. Additionally if you elect not to fulfill you reservation based on conditions above or for ANY reason 24 ON THE DAY OF YOUR RESERVATION including the weather outlined above … NO Refund is given and You Will Be Charged the ENTIRE cost of your Charter.
Keep your phone handy ONLY the CAPTAIN will call you if BAD WEATHER IS imminent (it is his trip and he will make that determination).THEREFORE DO NOT CALL THE OFFICE. A "Bad Weather" Definition is Present Lightning AT our marina OR in the area we are going to (not where you are) Constant rain AT our marina not where you are..
Weather May look bad where you are but fine where we are going to and may never reach us at all. If BAD WEATHER IS imminent you may (between you and the Captain ONLY) agree to a better time for both of you. Or if cannot agree on a new time and cancel you will receive your deposit refund (minus $40 which was collected at time the of your booking for admin fees paid to the Marina, not us).
IF second time is selected and both parties agree to that appt, no refunds are given at all if YOU want to change again or back out. Deposits can be refunded prior to 24 hours of your BOARDING time (minus $40 for Admin fees to Marina)
No Refunds once we leave the dock.
So Remember "We are more than a boat ride…. We make Memories"! We hope to meet you and your family so we can help create one of your Vacation Memories! God Bless and a have a wonderful vacation in Orange Beach Alabama !